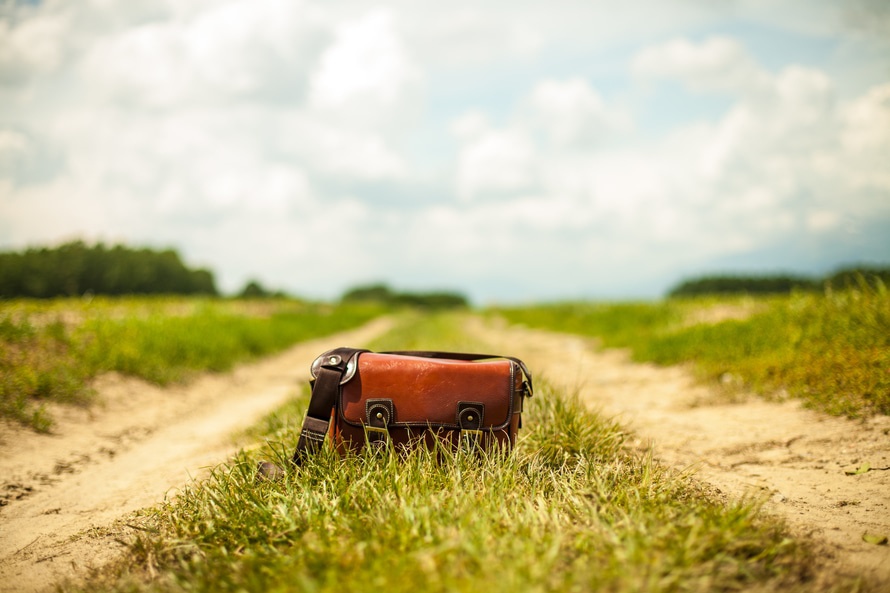 I've been anxiously thinking about my hospital bag for weeks. Last weekend, I finally started trying to pack it.  I pulled out the list our doula gave us at our last prenatal appointment and read over it. I felt uncertain about several of the items on the list and then kind of panicky, so I put it down.
I did some laundry. Ironed. Came back and stared at the list.
Went and packed the baby's bag instead. Had no problem with that at all. Tiny things for tiny humans are cute, not stressful.
Returned to my room. Packed a few items into my smallest suitcase. Got frustrated.
Went back to look at the master list from the doula again, the words jumbling in my brain. Zipped my suitcase and promised to come back to it later.
I kept thinking about it, tucked into the corner of our bedroom along with my trusty old breast pump and the baby's backpack, and every time I did, I felt completely overwhelmed. The list from the doula simultaneously felt like way too much stuff and not nearly enough. I kept thinking about Isla's birth and then the birth I hope to have this time, and all the variations that could happen between and outside the two. How the heck do I plan for all of these possible births?
At the same I was struggling with what to put in a hospital bag, the ladies on my pregnancy board were discussing packing their own hospital bags and the topic of previous births came up a lot. I found that while the things missing from my hospital bag for Isla included stuff like sufficient clothing for 40 hours in L&D, then another 72 hours of clothing–including c-section-friendly pants–for post-partum, a lot of ladies were saying things like, "I wish I'd packed more make-up."
Texas girl at heart I am, I'm pretty sure make-up was in my hospital bag with Isla, but I don't think at any point during labor or recovery I was in the mood, or even physically up to the task, of putting my face on.
I found that the more I silently compared notes with the other women–silently because I try not to share the details of Isla's birth unless I'm sure the audience is up for a good horror story–the lower and more anxious I felt. About Isla's birth. About packing my hospital bag. About having to give birth again at all.
And in the middle of crying to Kellen about how frustrated and overwhelmed I was with everything, I finally realized why I didn't want to pack my hospital bag. I didn't want to go to the hospital at all.
My experience with the hospital during Isla's birth was so demoralizing. Throughout the lengthy process, I had the distinct impression some of my doctors and nurses didn't respect me, were angry with me because my body wasn't cooperating with their plans, and at times didn't put my and my baby's health and safety because other concerns, like how long I'd already spent on L&D, were deemed more important.
Even though I know we have completely different care providers this time, and Kellen and I know so much more about how to advocate for ourselves, and we have a better support system in place, a part of me is still scared to go back into a hospital, where I have to trust in the doctors and nurses to take care of my baby and me, treat me with a basic level of respect and dignity, and ultimately make decisions that could profoundly change how this birth transpires.
My anxiety goes beyond wanting to avoid a c-section. I would actually be okay with another c-section. What I want is for my care providers to be nice to me–to treat me with respect and compassion and to be honest with me about what is happening–and my only previous experience with hospitals tells me this is not even remotely a guarantee.
Of course, I also want competent care providers and people making good decisions, and if I'd come out of Isla's birth feeling that at least my care providers had made good decisions for both of us based purely on what was the smartest, safest course of action, I think I might have been able to make peace with the fact that I was treated like crap. But competence and good decisions aren't a guarantee either.
Packing my hospital bag and trying to decide how much uncertainty I wanted to prepare for brought all of these issues to the fore. I don't know how long I'll be in the hospital. I don't know how much time I'll spend laboring or in L&D, if I'll labor at all. I don't know whether I'll have a VBAC or a c-section. I don't know how long we'll spend in post-partum. I don't even know for sure I'll get to leave with a baby. As awful as it is to consider, I've lost 3 babies already and know many others who have had term pregnancies that didn't result in live births. Hell, I might not come home from this birth for all I know. I don't take a healthy baby or a healthy me for granted.
I have no choice but to trust in my body, which has at best a questionable record in the reproduction department, doctors and midwives I love but have only seen in a clinical setting, a vast hospital staff I don't know from atom, and pure luck. It's scary.
I finally managed to pack my bag today, though. I sat down and thought hard about what I am and am not willing to go through this time, then I talked to Kellen about what I need from him to make sure at the bare minimum, this birth goes better than the last one, at least in all the ways we have any control over. It helped limit some of the uncertainties to the point I can at least figure out how many pairs of fuzzy socks to put in a suitcase.
The answer to that question, by the way, is 2.