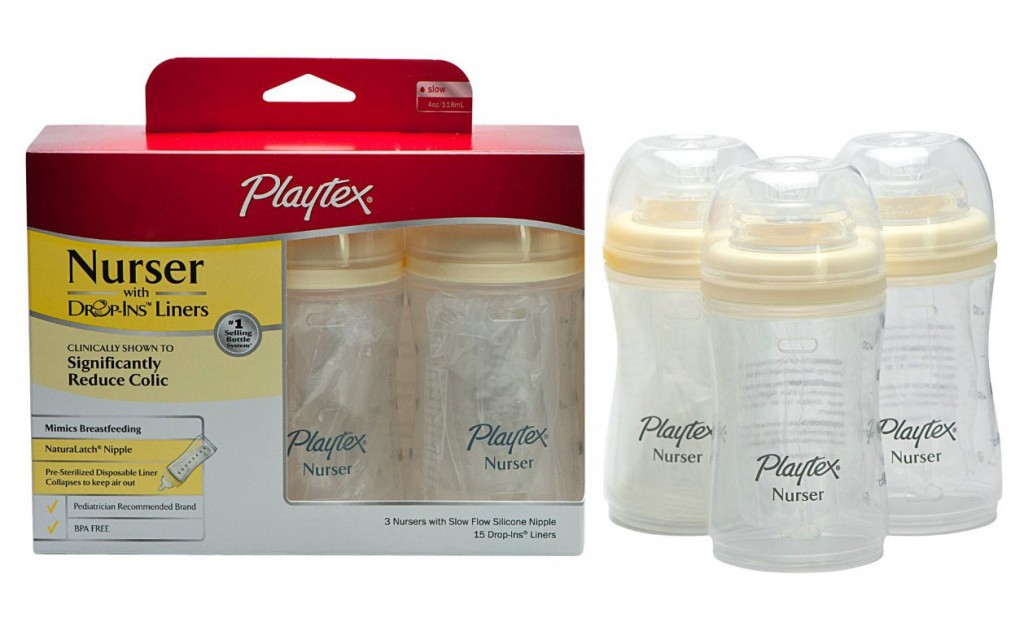 About Playtex Nursers
Playtex Nursers are a bottle created with breastfed babies in mind. The NaturalLatch® silicone nipple is meant to feel and work like the breast, and the pre-sterilized, collapsible drop-in liners help to limit the amount of air baby swallows, thereby reducing colic. Playtex says that their bottles provide 7 essential benefits, among which are reducing fussiness, nipple confusion, and prep time. This video provides more information on how Playtex Nursers work.
Our Experience 
We started trying to give Isla bottles at 3 weeks in preparation for my returning to work several weeks later, and we went through a string of bottles before trying Playtex Nursers. I initially wanted to try Playtex nursers because I liked that it had a wide-based nipple, which my breastfed baby preferred, and because I thought the collapsible drop-in liners would help reduce the amount of air my gassy baby was swallowing. (With some bottles, she was making a smacking sound every time she sucked, she was swallowing so much air.)
Pros:
Playtex Nursers are by far one of the lowest maintenance bottles you can get. Because the liners are pre-sterilized, you don't have to worry about washing and sterilizing the entire bottle every time you want to give baby a bottle. Just grab a fresh liner, pour in the milk, squeeze out the air, and go. When you're done, the liner can go in the trash. Only the nipple has to be washed.
The liners do reduce the amount of air baby swallows. No smacking with these bottles!
You can pick up the Target brand liners as an inexpensive alternative to the more expensive Playtex drop-in liners.
The nipples are very similar to the breast. I really liked that these nipples were the most similar to my own breast.
Cons:
While the drop-in liners do reduce air intake and are convenient, you do have to keep buying new ones and, of course, they generate a lot of trash. If, like me, you're looking for a more sustainable option, this probably isn't going to be something you want to use often.
While the nipple is similar to the breast, it's also kind of long and floppy, meaning Isla kept spitting it out and squirting milk all over herself. Messy! Isla has a pretty small mouth, though, so this might not be a problem for a baby with more mouth.
In all, it's my #2 bottle, and we've got a set stashed in our kitchen in case of an emergency. I think it's a great bottle for breastfed or colicky babies and, if you're trying to get your breastfed baby to take a bottle, this is a good one to try out, since every baby is different.
Buy it!
You can purchase Playtex Nursers online at Amazon. They retail for around $12.
Win it!
You can enter to win a 3-pack of 4 oz. Playtex Nursers here as part of my Back to Work Giveaway. The giveaway begins on Saturday!