It's been a while since I've done one of these and boy how times have changed. So many of the items we once couldn't live without are now completely useless to us, and we're continually coming across new milestones–teething, crawling, eating–that require us to find new products to accommodate Isla's burgeoning skills. It's amazing how quickly babies change and often how little time you have to prepare for those changes. You think they're a long way off and then BAM! you're kid is crawling and you're running to the store to buy outlet protectors.
Here is the quick and dirty on some of our top products at 6 months.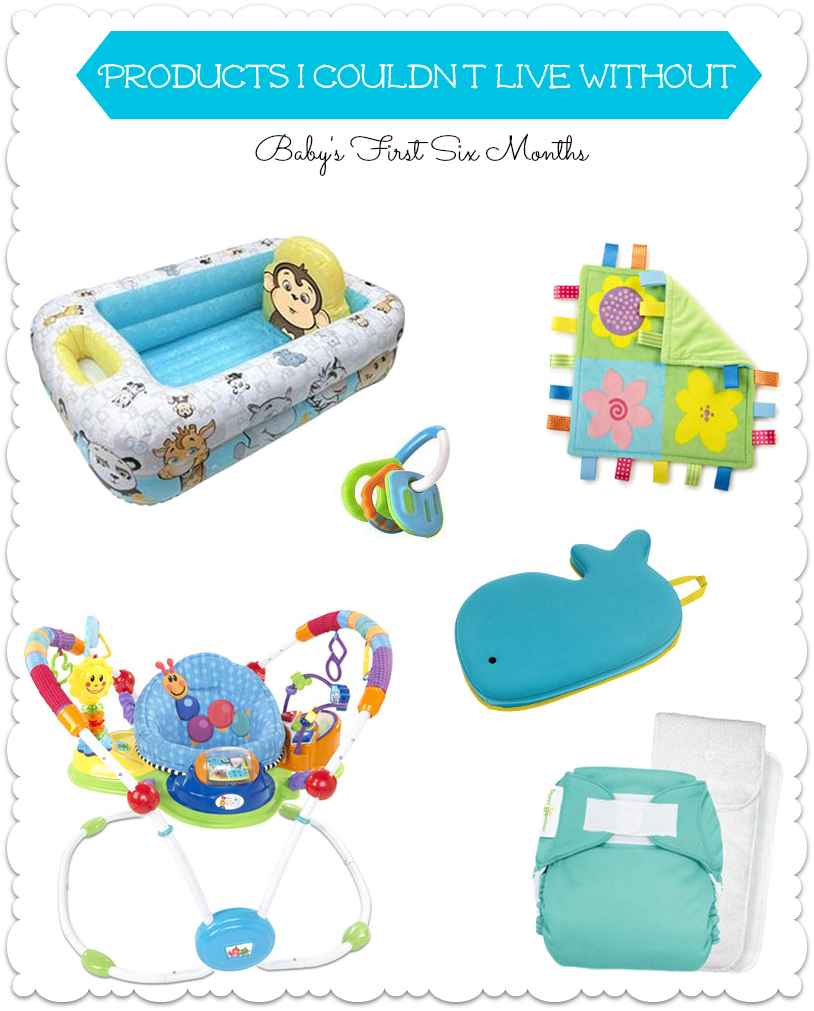 I once saw exersaucers called "neglectasaucers." Um, yes. If I didn't have one of these, I'd never get a minute to myself. Isla loves this thing and unlike, say, the now retired playmat, Isla can't escape the jumper. Thank goodness!
True cosleeping is no longer an option, now that Isla can roll, climb and crawl over us to her inevitable doom. (I have no desire to repeat the last time she went over the edge of the bed as I lunged after her. She's fast.) Isla is now sleeping full time in her own room, in her own crib, and a video monitor provides us paranoid parents (…or just me) with a little bit of peace of mind. I like ours, the Foscam, because I can view it from pretty much any device with an internet connection in our home (or out!) and because I can make the video camera move around remotely. I no longer have to go all the way into her room to check and see if she's still breathing–something I was routinely doing at 4 AM and waking her up even on nights when she otherwise probably would have slept until 7. This also supplies hours of entertainment.
When you have to chase your baby down and wrestle her onto the changing table for every single diaper change, you no longer have time to fasten snaps and your baby will become hysterical at the additional seconds of sitting still required to get them snapped. Velcro is magic. The bumGenius pictured are currently our favorite, mostly because they are the easiest pocket to stuff.
Isla loves these. LOVES. Most toys are not that interesting to her for more than 5 seconds. Taggie occasionally gets love for up to 5 whole minutes. In hyperactive baby time, that's like a decade. In mom time, that's almost long enough to eat dinner.
Isla has outgrown her infant tub just like she's outgrown so many other things. She's not quite big enough for the grown-up bath tub, though. This inflatable safety tub was a cheap solution to our problem. It's just the right size for her, and she can splash around in here as much as she wants. If she falls over, she hits her head on an inflatable side, so there are absolutely no tears. It's easy to clean, and when you're done with it, you can deflate it and easily store it away for the next baby. Genius!
We have the Garanimals tub, which has a nice inflatable pillow (not that Isla ever leans back) and a spot to put her baby wash and shampoo.
Now that I'm spending a lot more time squatting by the tub, making sure my kid doesn't drown herself, I needed something to save my knees from the agony of linoleum. Rolled up towels weren't cutting it, and frankly, I hate having to do the extra laundry. I found this cute little kneeler (which matches our faucet cover), which is very comfortable to kneel on. Plus, when I'm done, I can hang it up on the towel rack and it's out of the way. Very smart.
I've been meaning to do a review of the full Live Clean Baby line for a while now (just like I've been meaning to take my car to the car wash, get all of my folded laundry out of the no-longer-in-use Cosleeper and put the Cosleeper away, and start sticking to a grocery shopping schedule so we have food in the house to make dinners at home during the week), but I have to say, out of everything we have from that line, this has been my absolute favorite product. Up until we started doing solid foods, Isla got a bath maybe once a week. Now that we're having to do baths pretty much every day, I'm still sort of lazy and don't want to have to do a full wash and rinse with baby shampoo/body wash. So instead, I just add a little bit of this to her bath water. It has a nice, light scent to it, and it's very mild. It never dries out her skin or causes cradle cap, even with daily use, and Isla is pretty prone to dry skin. Plus, I like that it's an eco-friendly vegan product that has never been tested on animals and doesn't contain a lot of the sort of scary crap that your typical bottle of Johnsons & Johnsons baby wash would have in it. It gets rid of all the sticky and weird food smells, but it's very safe and very gentle, which makes me very happy.
PS: The Live Clean Baby line is only available at Walgreens if you're in the US. For other regions, check out Live-Clean.com. Check back later for a full review of their products!
Between daycare and our regular outings (getting groceries, eating out, shopping), we need a lot of wet bags. Otherwise, we'd have to do laundry pretty much every day so we'd have a clean spare. My favorite are the Kanga Care wetbags, pictured here, because they are more "3D" than most of my other wet bags. They don't retain their pop out shape, but it is a lot easier to get nasty diapers into these than a wet bag that just has a straight zipper across the top.
Even if you don't do cloth diapers, these things can really come in handy if you have kids. Invariably, you're going to get weird crap–and sometimes just plain crap–on your kids' clothes and toys, and it's really nice to have a wetbag around you can just toss everything into and not have to worry about it again until you get home and can toss it in the laundry. And unlike ziploc bags or plastic bags from the grocery store, these are reusable and aren't filling up landfills.
Or for those of you who weren't pet owners before you were parents: teething toys. Teething is a b****. You will need something to help you maintain your sanity. Teething toys can help. We have some you can stick in the fridge or freezer, but the one Isla seems to like best is this Tommee Tippee Chewther. She love to stick the blue "key" in her mouth and scrape it along her gums. Personally, I think that sounds awful, but she seems to really enjoy it.
Anyhow, you'll want to invest in a lot of these, preferably before your kid starts teething and has a nightmare day where they do nothing but scream.
Infant Tylenol or Ibuprofen
Another teething lifesaver. Without this, we would be getting a lot less leep and be dealing with a lot more grumpiness from Isla during the day.
Thinking about making your own baby food? The Magic Bullet will be your best friend. Forget overpriced food processors targeted specifically to parents who want to make baby food. This grown up blender will do everything you need and more, and will be incredibly easy to use and clean. My husband made so much fun of me for buying this after our old blender crapped out in the middle of making baby food, but after using this to make approximately 2 tons of baby purees, even he had to admit this thing was pretty flipping fantastic.
If you do make your own baby food and you decide to make it in bulk, you'll want to get a lot of tiny tupperwear containers to store everything in. Babies first starting on solids will eat very, very little at each sitting in the beginning, so if you freeze a huge thing of food and then let it defrost, it will go bad before your baby will finish the whole thing. We have containers like the ones pictured here, plus several others that are in the same 4-5 oz. range, and it typically takes us at least 3 days to get through each one, which is about the right amount of time you'd want food you're going to give your baby to sit in the fridge.
Once your baby becomes mobile–rolling, crawling, even pulling up on things and cruising–you have to start doing more to protect them from the totally normal things in your house that you don't have any problems with, but that could easily hurt or even kill your baby. It sounds dramatic, but once you witness for yourself how babies just seem to be drawn to sharp edges, electrical cords, and large drop offs, you suddenly get why parents feel the impulse to wrap their kid head to toe in bubble wrap and slap cushions on absolutely everything.
What precisely you decide to babyproof and how you decide to babyproof is up to you. For us, we've selected the large-scale barrier method–a baby fence–to basically block access to large swaths of our house that are dangerous. For instance, we can stretch this fence out so that it blocks the TV and entertainment center, the fireplace, and the heater. We also have a baby gate to keep Isla in the living area and put outlet plugs in every outlet that isn't blocked by a fence or gate. We haven't locked up all our cabinets and toilet seats, though, largely because Isla can't get to any of them thanks to the baby gate.
There are a lot of products out there to help you out. Just assess the dangers in your house, figure out what you need, and do your best to keep your kid from killing themselves.